PRODUCTS
Thanks to our certified products, by the strict European standards, IRON TECH guarantees you always an efficient service that contributes to your safety, and faster and easier execution of complex construction works.
PROTECTION SYSTEMS
IRON TECH has been successfully manufacturing and distributing protective carriers in the field of construction on both the demanding European as well as worldwide market for 8 years.

CONSTRUCTION EQUIPMENT
IRON TECH manufactures a wide range of products in the field of CONSTRUCTION EQUIPMENT designed to help, facilitate, and accelerate work on construction sites throughout both Europe and the world.

ACCESSORIES
Besides our standard products, we also offer you other accessories, products used in construction as well as in other branches of the economy.
ABOUT US
COMPANY
IRON TECH Ltd. was established in 2010. in the town of Čelinac. The main priority of the company is the production of metal equipment and building protection systems.
The main aim of our company is to make the possibility that the client`s needs and ideas meet and ensure the value and quality of the products in order to maintain the market long-lasting position and so put it in front of the competition.
Our mission is: To offer the client the most suitable customized solutions with the best price-quality ratio, and bring our experience and expertise into each step on the way to the final product and service, because only so the success is guaranteed.
With our joined collective forces, teamwork and positive energy, we reach our goal. The goal is that IRON TECH becomes a recognizable brand both in Europe and in the world.
Our vision is: To become globally recognizable and that our security systems ensure the safety of our staff in countries where this aspect is not a priority. Thanks to our certified products, by the strict European standards, IRON TECH guarantees you always an efficient service that contributes to your safety.
PRESSES FOR PUNCHING, CUTTING AND BENDING MATERIALS

Iron Tech in its machine park possesses the pressure presses weighing up to 300 tons, hydraulic presses for bending pipes, and steel bending presses weighing up to 4000mm.
We possess over 300 divers press tools and we are able to perform various deformations, cuts and bending of materials.
Our presses work in both manual and automatic mode, and for these we also have automatic feeders of materials.
MACHINES FOR CUTTING MATERIAL
We use cutting machines for cutting of pipes, flats and metal plates of larger dimensions.
We have automatic, semi automatic and manual chains which, with their speed and precision, meet all our production needs.
In our section we also have scissors for cutting sheet metal wide up to 2000mm and thick up to 4mm.
AUTOMATIC WELDING ROBOTS
In our TOOL DEPARTMENT, there are a semi-automatic molder, lathe, a flat grinder for steel as well as a furnace for material tempering.
With these machines at hand, our professional staff develop and maintain the tools we use in process of manufacturing our products.
WELDING MASHINERY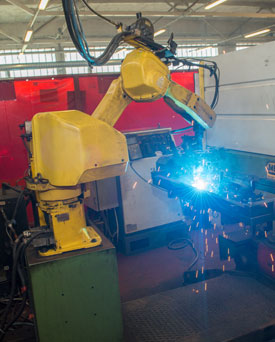 At the welding department, there are automatic welding robots that, with the help of professional staff, programs and customized templates, weld, independently, the most complex positions in our production.
Welding robots contribute to faster and more quality work and greatly facilitate the process of working in the welding department.
WELDING MASHINERY
There are welding machines in the Iron Tech department, and MIG welding technology, used by our professional staff, performs tasks on a daily basis.
METAL CUTTING LASER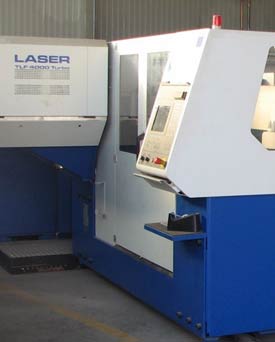 Inside its production plant, Iron Tech has a laser machine for precise cutting of metal.
Because of its quality, precision, and speed of cutting, laser cutting is one of the most popular methods for metal cutting.
Characteristics of our laser are:
Model TRUMATIC L 3030, TRUMPF

Working surface dimensions: 3000x1500mm

Cutting of materials with thickness up to 20mm

Power: 3 kW

Max. Speed on X and Y axis 90m/min.
If you need a fast and high quality laser cutting service, you can rely on us.
CNC PUNCHING MACHINE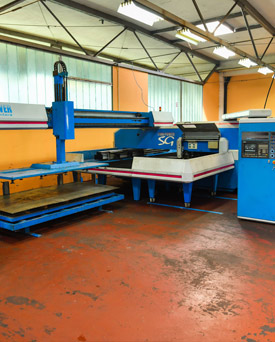 IRON TECH owns CNC punching machine for sheet metal punching:
Basic characteristics of our punching machine:
Model: Finn Power / SG6
Working range 3000x1500 mm
Maximum punching thickness 8 mm depending on the type of material.
CNC punching machine facilitates the production process and contributes to the quality of our products.
On your request, Iron Tech offers sheet metal punching services.